Expert Cape Coral Windshield Replacement
We all encounter circumstances every day while driving that have the potential to cause windshield damage. When you need to get a Cape Coral windshield replacement, the friendly staff at the Auto Glass Warehouse can quickly set up an appointment time with our skillfully trained technicians. Our staff will also assist you in making a insurance claim for your windshield replacement or repair by placing a 3 way conference call between our staff, your agent and you. If your short on time, do not worry as these calls are always swift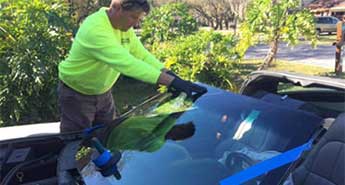 and simple. Please be advised that a insurance claim can only be made if you cover comprehensive coverage on your vehicle. Otherwise, windshield replacements in Cape Coral and our other service areas, customers without comprehensive coverage will need to be self-pay. We offer competitive pricing and free mobile service for insurance claims as well as self-pay customers 
Highest Quality Materials for Cape Coral Windshield Repalcement
All of the materials we use for windshield replacement in Cape Coral and our other service areas are of the best quality available in the auto glass industry. Some of the benefits of such materials include:
Meets all OEM strength requirements

Ensures fastest drive away time

Rapid adhesive curing time
Auto Glass Warehouse chooses to invest in DOW Betaseal Express Advanced Cure Auto Glass Urethane Adhesive for all of our Cape Coral windshield replacements. This urethane is one of the fastest curing adhesives that ensures some of the fastest drive away times. Other companies may use a less expensive adhesive that results in a exponentially slower drying time of up to 24 hours. This is also why other glass shops may request you to not wash your vehicle for a minimum of 24 hours to ensure it has completely cured. 

Providing Five-Star Glass for Cape Coral Windshield Replacement 
In addition to using only the best urethane adhesive on the market, we also use the highest top rated auto glass available. We order auto glass from major manufacturers such as PGW(Pittsburgh Glass Works), Pilkington (formerly Libby Owens Ford) as well as original equipment glass directly from the OEM manufacturers. We use these superior materials for all windshield replacement in Cape Coral and all of our other service areas. We strive to use the best equipment to keep your vehicle safe. For your Cape Coral windshield replacement needs call 239-768-5054 today!