Sarasota RV windshield replacement
Nothing stops a road trip in its tracks like a broken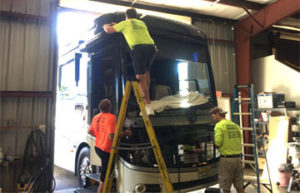 windshield. Plans have to be rescheduled, tickets refunded. Its just a terrible mess! If this happens to you and you need a Sarasota RV windshield replacement, call the Auto Glass Warehouse. Our office staff and expertly trained technicians are dedicated to helping you get back on your road trip(or start it!) as soon as possible! We will take the guess work out of your replacement. From the moment you call, our staff will be responsible for taking care of all your needs. Upon receiving your call our staff will:
Note the day and damage type that occurred
Receive your insurance information, including your VIN number
Set up your insurance claim through your agency
Set up a convenient appointment time
Trusted Sarasota RV Windshield Replacement
All of our technicians are highly trained. They have each gone through rigorous training including on the job training, NAGS certification (national glass association) and AGRSS certification (auto glass replacement safety standard). Each technician the Auto Glass Warehouse employs are skilled in all types of windshield repair and replacement. Therefore, you can always rest assured that the technician that is sent out to your location will give you a quality Sarasota RV windshield replacement.
Multiple technicians for Sarasota RV windshield replacement
RV windshields are humongous! The sheer size of these windshields can sometimes require 2 technicians to safely set your new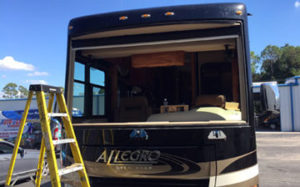 windshield. When 2 technicians are present for a Sarasota RV windshield replacement, it allows for complete safety for not only the technicians replacing your windshield, but for your RV as well. Having 2 technicians on the scene takes the stress and weight of the windshield and evenly distributes it between the two of them. This allows for a precise fit, allowing the technicians to both slide the replacement windshield easily in place. If you are in need of a quality Sarasota RV windshield replacement, please call our local office today at 941.556.5549.Our friendly staff will be happy to assist you.