Quality Truck Windshield Repair North Port
Small chips on windshields are a common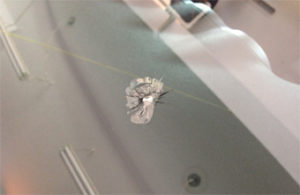 occurrence. Just regular, very day driving can cause you to need a truck windshield repair North Port. In fact, a driver may not even realize that damage happened upon impact. There are numerous small items and every day occurrences that create nicks or chips in your windshield. One of the most common reasons for needing a truck windshield repair North Port is simply driving behind another vehicle. When you drive behind another vehicle, tires roll forwards and kick up small pieces of debris on the road including but not limited to:
Gravel
Rocks
Branches or tree parts such as acorns
Trash
These items can fling up into your windshield and create those small nicks or chips upon impact. Once this happens, this damage needs to be repaired.
Importantance of Having a Truck Windshield Repair North Port
When you realize you need a truck windshield repair North Port, it is best to have it repaired as soon as possible.The sooner that the damage can be repaired, the better the repair will look. This is because as soon as the windshield is damaged dirt and oil can enter the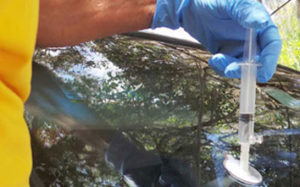 area. Once the dirt or oil is in the damage, wind and even your windshield wipers will force the dirt deeper into the area. When this dirt or oil is pressed into the chip, it makes repair less effective as the resin that is placed over the damage to fill it seals in the dirt and oil and can leave a cloud like appearance on that spot. Another reason to have your truck windshield repair North Port done quickly is because once a windshield is damaged, the nick or chip can grow. Driving through pot holes, over speed bumps, down bumpy or dirt roads can cause the damage to spread quickly. While you are out driving, it is not always possible to avoid these situations, therefore one cannot know when or where the chip might grow into a larger chip or even a crack. If the damage gets too large, our technicians will no longer be able to safely perform a truck windshield repair North Port. At that point, a full windshield replacement will need to be done. We cannot repair large cracks as once the chip has grown to this size, the windshield is no longer safe and has lost a large amount of its structural integrity. This means that the windshield can no longer keep you and your passengers safe against accidents, weather and debris.
How to Get a Truck Windshield Repair North Port
If you find that your windshield is damaged, please call our local office at 941.556.5549to schedule your windshield repair. Our staff will be happy to help you set up a insurance claim, if applicable, and find a time that works for you to have our mobile technicians come repair your windshield. Our technicians will come to you at your home, work or play to do your truck windshield repair North Port!