Venice Florida Windshield Replacements
Imagine, one day you are driving down the road around Venice Florida and THWACK! A rock kicks up off the road or falls off a construction vehicle and hits your windshield. The noise makes you jump. Then, you instantly notice there is a crack from that darn rock. The crack is pretty good sized and think you will need
a Venice Florida windshield replacement. Circumstances such as these can leave you unsure as to what to do next. Unfortunately, a broken or chipped windshield can happen to anyone, anywhere at any time. You may have many questions such as:
What do you do now?
Should you call your insurance agent?
Ask around for a mobile windshield replacement shop?
Is it safe to drive with a cracked windshield?
Can an officer issue a ticket for such damage?
Don't worry, we can help you with all of this!
Dependable Venice Windshield Replacements from the Auto Glass Warehouse
With one call to our local office, our staff will put you at ease! We will answer any questions you may have about safety and what to do next. Our staff will even help you with navigating the insurance system for your Venice Florida windshield replacement! If you in fact have full comprehensive insurance, we will place a 3 way call between one of our staff members, you and your insurance agent. All we will need from you is your vehicle identification number or VIN and a few moments for the phone call. Once we have confirmed your insurance, we will send out a certified technician out to you and perform your Venice Florida windshield replacement as no cost to you!
Comprehensive Insurance for Venice Florida Windshield Replacements
There is no trick, incentive or gimmick for receiving a Venice Florida windshield replacement at no cost. Within the state of Florida, it is the law that any motorist that carries full comprehensive insurance will receive a new windshield at no cost to them if their windshield is damaged, cracked or broken. The Florida statute 627.7288 requires auto insurers in Florida to replace or repair their policy holders damaged windshield with zero deductible. . We do also offer Venice Florida windshield replacement for those who do not carry full comprehensive insurance. If this applies to you, our windshield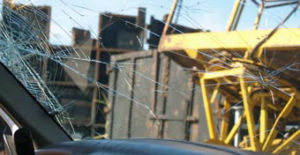 replacement would then be self-pay. The price for your windshield replacement will not be more than those who use their insurance for the windshield replacement. For self-pay customers, we accept cash, credit and debit cards. Also, as with every windshield replacement or repair our company does, our mobile service is offered at no cost. We strive to offer the best pricing possible for all of our customers. No matter if you are self-pay or using insurance for a windshield replacement, call us today at 941.556.5549to set up your appointment.