Broken Windshield Replacement North Port
Having a broken windshield is never a good thing! It is unsightly, unsafe and whether you know it or not, unlawful. The good news is that the Auto Glass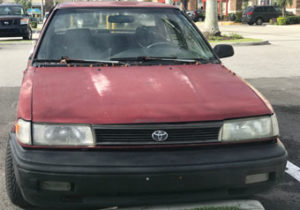 Warehouse can give you an expert windshield replacement North Port. Our certified technicians will get your vehicle back to pristine condition in a quick and efficient manner with a mobile auto glass replacement to your home work or play. Once your windshield has been replaced, your vehicle is safe to drive in again and no longer runs the chance of getting a ticket for driving with a broken windshield.
Importance of Windshield Replacement North Port
The need to have a windshield replacement North Port for broken auto glass is clear. It's a fact: driving with a broken windshield is unsafe. It puts all vehicle occupants at a higher risk of injury. Most experts agree that your windshield is considered to be the 3rd most important safety component of your vehicle.
Those 3 most important safety features are:
Seat belts
Airbags
Windshield
That means that your windshield is only behind seat belts and airbags in safety rating! The windshield in a vehicle is responsible for nearly 50% of the structural integrity of your vehicle as a whole. In other words, if you are in a accident that a vehicle is hit in the front end, the windshield absorbs almost HALF of the incoming force from the accident. During a rollover accident, the windshield also helps support the weight of the
cabin/roof. There is even more! The windshield assists with the seat belts to keep passengers from being ejected from the vehicle in a accident. These are not the only reasons why getting your windshield replacement North Port is so important. Your windshield also helps to properly deploy and position the passenger air bag by keeping the air bag from deploying upward and staying in the forwards position. One other safety feature of your windshield is the way it breaks. When impacted, windshields are all designed to break in pattern and not spray out pieces of glass. The laminate placed on the glass during production is responsible for this process. To sum this up, having a windshield replacement North Port is very important! We want to help keep you and your passengers safe. Call us today at
941.556.5549
to set up your mobile auto glass replacement!